Pogo, a big-mouthed young thief from Chicago, falls through a hole in the ground and finds himself in a brutal underground world where survival is based on strength and intimidation. His only hope for escape is his telekinetic ability—and the help of a stray ferret named Annie.
In the underground, pride, brutality, and backstabbing are ways of life. Only the strong survive.
Pogo finds himself in the middle of a tug-of-war between the four underground spheres who want him for different—and often sinister—reasons. In order to survive, he allies himself with Jasper Samsid, King of the East Sphere. Samsid promises that if Pogo helps him rise to the top, he will allow Pogo to return to the surface. But will Samsid be true to his word? And does Pogo have the ability to move beyond the politics of the underground and form a true, loyal relationship with Samsid?
Genre: Urban fantasy/Paranormal/LGBTQ
This story includes violence, sexual content, and explicit language, and is best for ages 16+.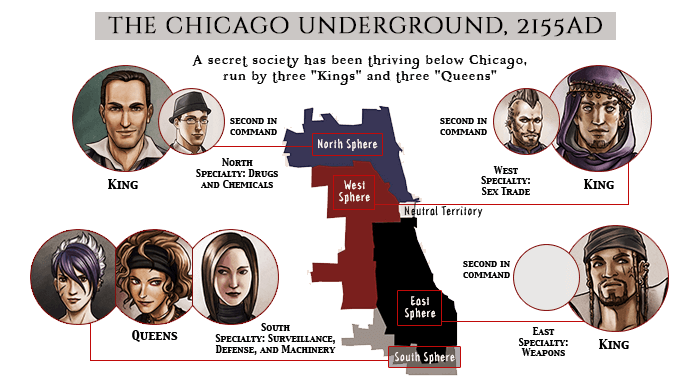 Demon of the Underground was first unveiled in sketch form with limited color during the June 2010 round of Nanomango, where I completed and posted the first 30 sketched pages. In June 2011, I sketched the next 30 pages for Nanomango, and on July 11 2011, I officially launched the webcomic.
However, Demon of the Underground existed in some form even before that. Pogo was created in 2006, and for my college thesis in 2007, I completed several comic pages from what is now slated to be DOTU's sequel. I'm looking forward to bringing the entire story to life and sharing it here.
DOTU also has a page on Patreon with tons of extra content including a full serialized prose novel that tells Merritt's back story. Read more about my Patreon here:

About the Author
I'm Bob, and I'm a freelance illustrator, webcomic creator, and author from the Chicago suburbs. I like writing plot-driven stories about complex LGBTQ characters, and my favorite genres are urban fantasy, paranormal, mystery, and suspense. I'm also an animal lover. I've spent most of my life with ferrets and birds, and I can't imagine being without them!
email: bob (at) bob-artist.com.